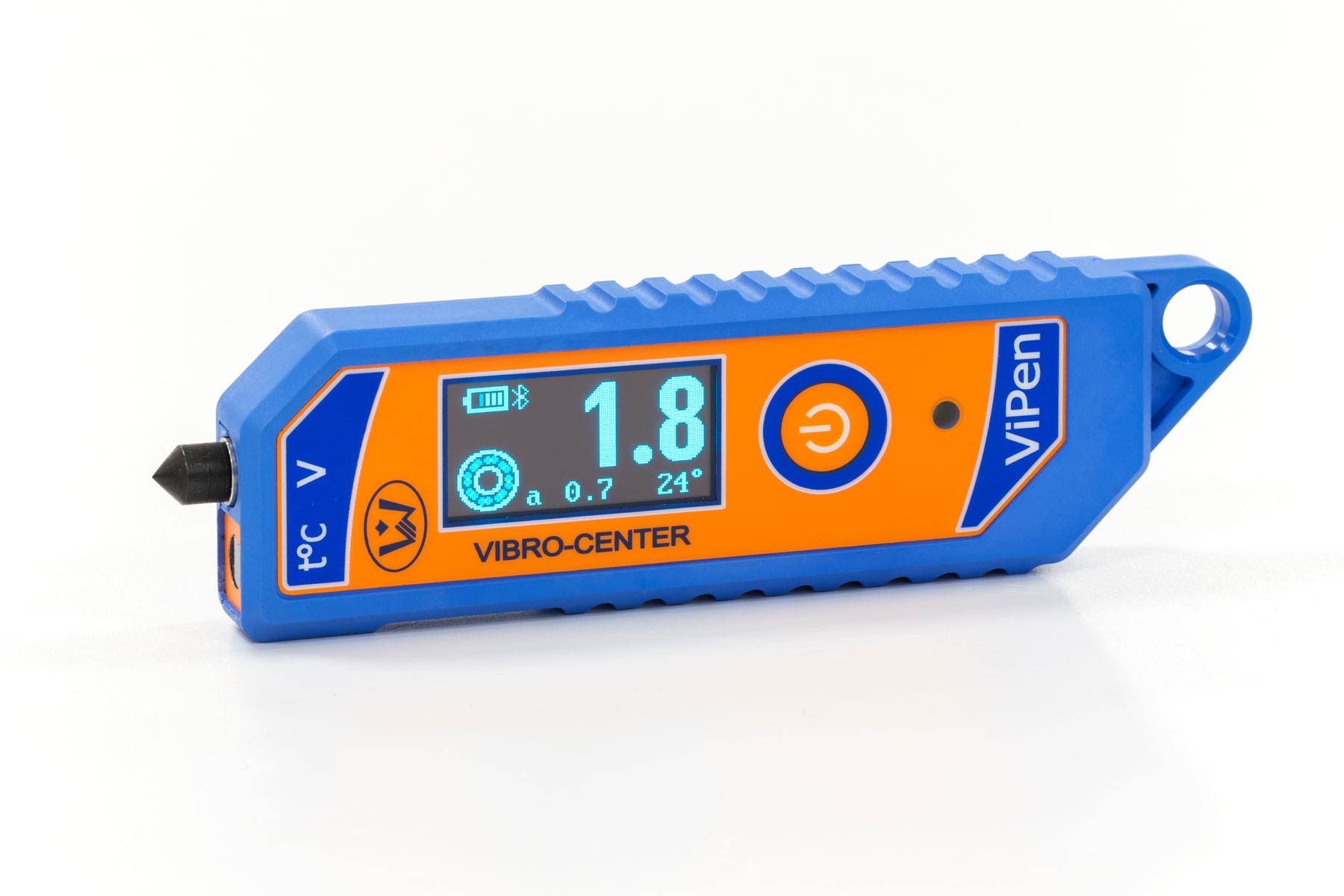 ViPen – a pen-type Vibrometer with Temperature Measurement, Rolling Bearing Diagnostics and Bluetooth Interface
ViPen vibrometer – it is vibration measuring, temperature measuring and roller bearing diagnostics combined in one device. ViPen goes readily into the pocket, so it refers to the vibration devices called "pen-type".
The device is operated with one sensor button. The device switches on at pressing the button. The measurements go on while the button is kept pressed. At releasing the button the last measured value is displayed. When the device is inactive for more than 60 seconds it switches off for the battery energy saving.
ViPen Features
The device has got in-built sensor for vibration and temperature sensor, which adds to the equipment condition evaluation precision.
The device has got bright and contrast OLED screen, suitable for operation at the temperatures as low as 20°C below zero.
ViPen is cased in plastic, the screen is protected with shockproof glass. The device weight is 140 gram only.
Operation from the in-built battery without recharging is not less than 8 hours. One charge is enough for measuring during one working shift.
Equipment Condition Evaluation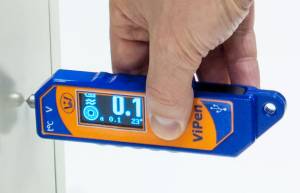 Efficient rotating equipment condition diagnostics by ViPen is based on the three main parameters measured, they are:
RMS in the band of 10 ÷ 1000 Hz
Vibration acceleration amplitude (peak)
Temperature
For the equipment condition assessment the measured values should be compared to the vibration norms for the measured parameters established at the enterprise.
If there are no such norms for the enterprise, then the universal vibration standards set in the equipment certificates or in ISO 20816-1:2016 could be used.
The measured data can be processed on PC with "Aurora 2000" expert software, which can be free downloaded from our website. The software automatically generates the diagnostic reports including such information as:
equipment condition
defects' presence
forecast for repair planning
Roller Bearing Condition Assessment
The automatic roller bearing condition assessment by ViPen is based on the vibration acceleration kurtosis calculation.
Vibration acceleration kurtosis is the ratio of the shocks caused by the bearing defects against the general vibration background. The more considerable the defects in the bearing are the bigger is the vibration acceleration kurtosis value.

In the device screen the bearing condition is indicated by the graphical symbol of a bearing.
There are three levels of bearing condition assessment:
Normal. The graphical symbol of the bearing rotates quickly.
Warning. There are some defects, the graphical symbol rotates slowly.
Alarm. The graphical symbol doesn't rotate and blinks.
The vibration diagnostic results can be improved by the bearing stand temperature measurement.
The temperature is measured by the in-built sensor – pyrometer. The temperature growth is always caused by the lubrication problems or some inner defects of the bearings.
ViPen Specifications
| | |
| --- | --- |
| Vibration RMS in the range of 10÷1000 Hz, mm/s | 1 ÷ 70 |
| Vibration acceleration range, peak m/s2 | 1 ÷ 50 |
| Temperature measurement range, °C | -70 ÷ 380 |
| Operation from the battery, hours | 8 |
| Charger slot | Micro-USB |
| Operation temperature range, °C | -20 ÷ +50 |
| "ViPen" dimensions, mm | 146*40*16 |
| "ViPen" weight, g | 140 |
ViPen Delivery Set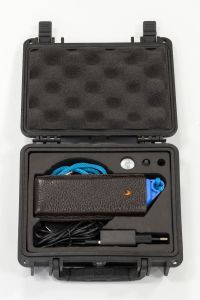 ViPen vibrometer
Leather case
Power supply unit with micro-USB cable
Operation manual
Certificate
Downloads

ViPen
Booklet 0,7 Mb
07.08.23
ViPen
User Manual
1,1 Mb
12.11.21