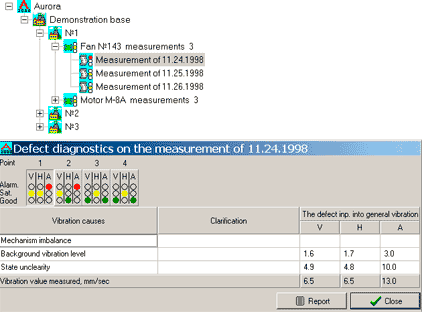 Aurora-2000 - expert system of state diagnostics and repair planning for rotating equipment
Aurora-2000 - is an expert system of state diagnostics and repair planning on the basis of the technical state estimation for rotating equipment.
The program contains the databases of enterprises (the information on each of the enterprises is stored in a separate directory). Each enterprise can to be divided into several departments, each department can to include some machines. At the machine vibration measurements and repairs are done from time to time (but not on one day). The information entered successively is showed in program user"s window in the form of a tree-like structure with "Aurora" mark as the root.
With Aurora-2000 software you can view measurement and view trends of vibration by time and by technological parameters of equipment.
There is unique diagnosis system of equipment state by RMS of vibration velocity in Aurora-2000. It"s can diagnose foundation state by foundation"s measurement of RMS.
Next subsystem - planing of repairs of equipment by current techical state. You can planning repairs, getting reports about future repairs, quality of done repairs, repair services.
Software Aurora-2000 you can download it from Download section of our site
Aurora-2000 software works under operating system Windows