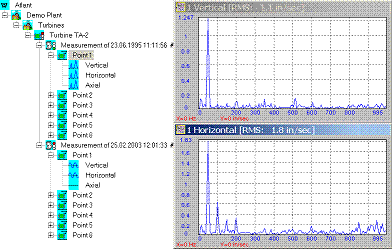 Atlant software - program for expert diagnosis rotating equipment
Atlant software allows to keep measurements from rotating equipment, to import vibration measurements from various devices, to view measurements, to transform to other views, to analyse data, to diagnose state of equipment in automatic and manual modes, to create reports about state of machine.
In Atlant software included several subsystems:
Atlant - database about controled equipment at plant, diagnosis data about equipment, all measured data.
Pallada+ - automatic expert system for diagnosis state of equipment by spectrum of vibration measurements.It allows diagnose many types of defects of machine.
Pallada - language and interpreter for making diagnosis rules by user himself.
Ariadna - diagnosis of state of rolling bearings by envelope and spectrum of envelope. In system included database about many types of rolling bearings
Diana - system of dynamic balancing of rotors in their bearings or on the balancing machine
System of views of data in many types - waterfalls, 1- and 2-dimensions views, animations, wavelets, reports
Atlant software can measure data with device Atalnt-8, import data from devices manufactured by Vibro-Center and from vibrodevices of other manufacturers.
Atlant software is free. You can download it from Download section of our site
Atlant software works under operating system Windows