About Vibro-Center
Our main business activity is development and manufacture of portable instruments for measurement of vibration of rotating equipment.
We develop methods and tools for change from a system of preventive maintenance on the equipment condition maintenance.
Company News
21 June 2021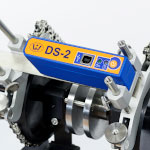 DS-2 shaft alignment tool is used for shafts alignment in the units of low and medium power. Unlike most laser shaft alignment tools on the market, DS-2 is more compact, easier to use and costs less.
The DS-2 uses two non-contact sensors of high accuracy, measuring the mutual angular and parallel displacement of the shafts when turning the shaft of the unit by 90, 180 and 270 degrees.
The device with its non-contact displacement sensors is installed on one shaft of the unit. On the other shaft the metal plate is installed. The distance from the sensors to the plate is measured in different angular positions of the shaft.
1 October 2015
ViPen – a pen-type Vibrometer with the roller bearing diagnostics
"ViPen" vibrometer – it is vibration measuring, temperature measuring and roller bearing diagnostics combined in one device. "ViPen" goes readily into the pocket, so it refers to the vibration devices called "pen-type".
The device is operated with one sensor button. The device switches on at pressing the button. The measurements go on while the button is kept pressed. At releasing the button the last measured value is displayed.
Three main parameters measured by "ViPen":
RMS in the band of 10 ÷ 1000 Hz
Vibration acceleration amplitude (peak)
Temperature
16 june 2012
We manufacture and sell modern portable devices for vibrations measuring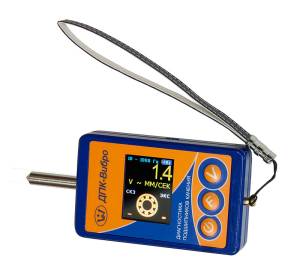 DPK-Vibro - vibrometer, rolling bearings diagnostics device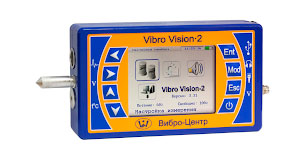 Vibro Vision-2 - vibration analyzer, with additional functions for rolling bearings diagnostics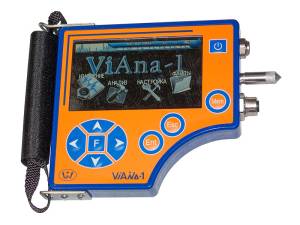 ViAna-1 - vibration analyzer, balancing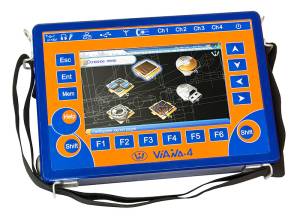 ViAna-4 – a multipurpose device for vibration measurement, vibration analysis and rotor balancing